RFM Scoring Calculator
RFM (recency, frequency, monetary) analysis is used to determine quantitatively which customers are the best ones by examining how recently a customer has purchased (recency), how often they purchase (frequency), and how much the customer spends (monetary). "RFM analysis is based on the marketing axiom that "80% of your business comes from 20% of your customers." RFM is used by direct marketers to determine the promotional schedule and offers sent to customers based on their RFM score.  Direct marketers have used RFM analysis to target their mailings to customers most likely to make purchases for more than 40 years.  The reasoning behind RFM is simple in that people who buy once are more likely to buy again.  Today, RFM ratings have become an even more important tool with the advent of email.
The default values in this RFM Scoring Model are one example of the scoring model used by direct marketers to determine the relative quality of customers based on their purchasing behavior.  If you have longer purchasing cycles and higher pricing for your products, a similar model can be developed to fit your specific requirements using this model as a guide.  You can change the values in the RFM Table to conform to your business model.
In the default model, customers are assigned a ranking number of from 0 to 50 for each RFM parameter. In this model, frequency has the highest point rating, followed by recency and monetary value.  Once the customers have been scored, they are sorted into deciles or cells (10 groups) based on their total score, with those customers with scores of 90 to 100 points being the best customers.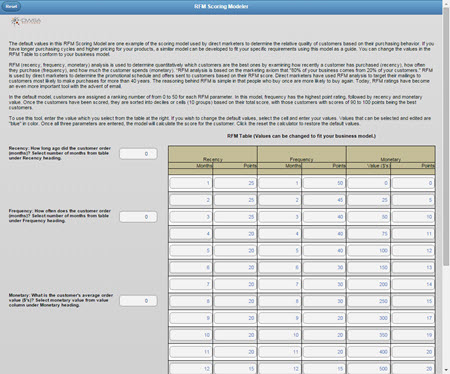 To purchase this tool, click the link below.