Social Media ROI Calculators
Are you measuring you return on your social media investment? If not, you're not alone. Many companies are still struggling to measure the effectiveness of their social media presence through Facebook, Twitter, YouTube, etc. and are having a difficult time putting a value on a fan.
Fortunately, social media is a very measurable medium and one can extract a good deal of valuable data that can justify an investment in social media resources.
The calculators include the key metrics we think are imperative to gauging your social media presence. The calculator takes into account your overall investment and your output on all of your social channels. The calculator is flexible, and it's designed to help you put an ROI formula to work for your brand in the way that makes the most sense for you.
There are two versions of the calculator.  The first allows you to enter factors for multiple media in a complete social media campaign and compute the profitability of an entire campaign.  The second allows you to compute the breakeven and ROI for individual media tactics.
Social Media ROI Calculator (Single Individual Media)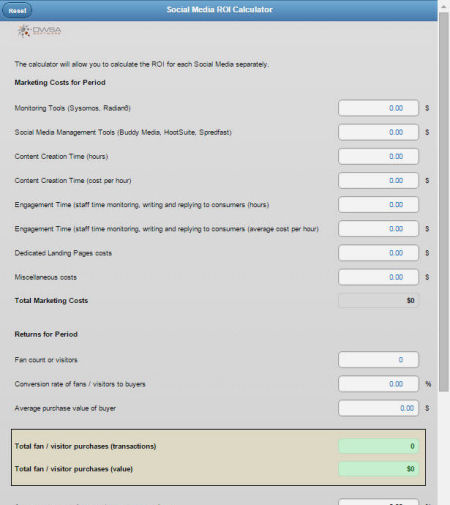 To purchase this tool, click the link below.