DRTV - Campaign Income & Cash Flow Calculator
The DRTV Income & Cash Flow Projection Calculator will help you conduct "what-if" analysis, and income and cash flow projections for a direct response television campaign (infomercial). The calculator is setup to allow you to enter the retails and costs for the initial offer and three up-sell or add-on offers that are sold to the customer with their initial purchase. (# 1 – 18) Up-sells and add-on sales can add to both the revenue and profits generated from a campaign. For each up-sell offer, enter the retail value and the percentage of customers that you expect to purchase the up-sell offer. (# 2 – 4) Based on these factors and other costs associated with the campaign costs associated with taking and processing the order, the calculator will project revenue, profits, required investment, and cash flows.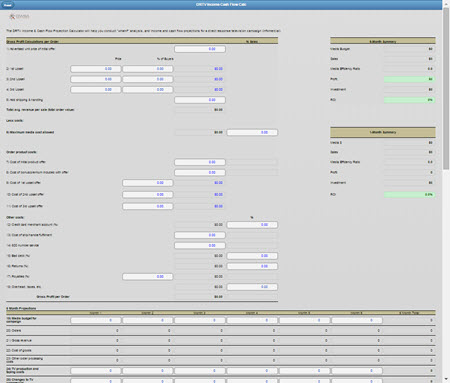 To purchase this tool, click the link below.