DRTV - Allowable Advertising Expense & Media Efficiency Ratio Calculator
This tool will calculate the "ad allowable" and "media efficiency ratio" for a DRTV infomercial campaign. The ad allowable tells you how much you can afford on a cost per order basis. The ad allowable is the dollar amount determined to be the maximum media expense for each unit sold in order to generate a specified level (%) profit. The Media Efficiency Ratio (MER) is the total number that decides an infomercial's overall success or failure. The ratio is derived by dividing total sales by the media cost. Sales/Media Cost = MER. Generally speaking, to have a successful campaign, your MER should exceed your breakeven ratio.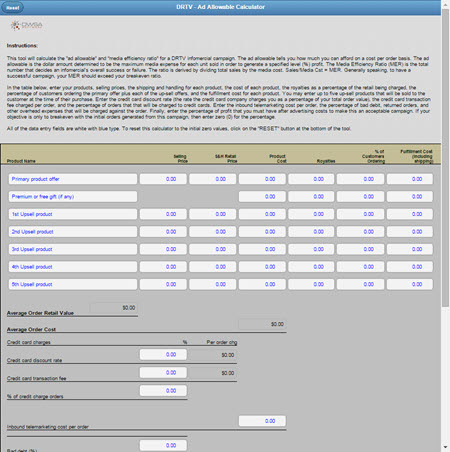 To purchase this tool, click the link below.