FREE Assessment & Consultation
To receive your FREE Assessment and 1-hr Consultation, complete the form below.  All fields are required.  Press the SUBMIT button and an email with a link in it to download the assessment tool will be mailed to you.  Complete the assessment and send a copy of  it to assessment(at)dwsassociates.com.  We will review it, then contact you to share our observations and recommendations for improving your strategies, plans and programs.  Asterisk fields are required.
______________________________
Student Relationship Management (SRM) Assessment Tool

Relationship Management is about more than just software.  How ready are you?
The purpose of this SRM (Student Relationship Management) Assessment is to identify opportunities to optimize your current student relationships and improve acquisition and retention performance. The Assessment is divided into three key functional areas – Student Acquisition, Student Retention and Information Database Management - in order to assess how you gather, analyze and utilize data in order to recruit and retain successful students.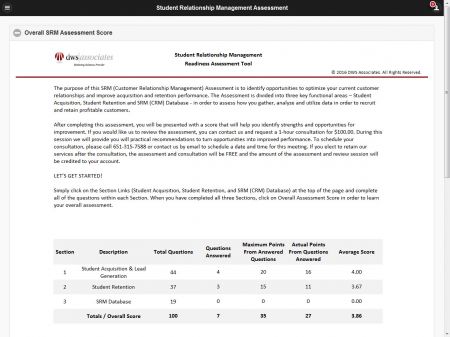 To Purchase This Tool, Click Add To Shopping Cart Below.
To find out more about our marketing applications, products and services, click here or call us today at (651) 315-7588.
You must be logged in to save Bookmarks.