FREE Assessment & Consultation
To receive your FREE Assessment and 1-hr Consultation, complete the form below.  All fields are required.  Press the SUBMIT button and you will receive an email with a URL link in it to download the assessment tool.  Complete the assessment and send a copy of  it to assessment(at)dwsassociates.com.  We will review it, then contact you to share our observations and recommendations for improving your strategies, plans and programs.  Asterisk fields are required.
______________________________
To find out more about our marketing applications, products and services, click here or call us today at (651) 315-7588.
You must be logged in to save Bookmarks.
Higher Education Marketing Assessment
The DWS Associates Higher Education Marketing Assessment is a detailed audit of your institution's marketing that gives you an impartial, neutral valuation of your marketing strategies, processes, practices, programs, and operations. It is designed as a self assessment. However, DWS Associates may use it as part of the 'discovery' process we go through with clients in order to quickly identify areas of opportunity and problems that are affecting your institution's marketing performance. (When it is used as a tool in a formal audit which is conducted by DWS Associates, we would also look at your communications materials, and interview personnel regarding roles, responsibilities, resources and processes.)

The assessment is broken down into the following areas:
Business / Marketing Challenges Facing Your Institution
New Student Acquisition / Lead Management
Student Retention Issues and Practices
Student Relationship Management
Marketing Management
Planning & Control
Program Management and Marketing
Marketing Communications and Promotions
Organization
Service
Marketing Information Practices and Systems
Marketing Technology*
About Your Institution*
*In the online self-assessment, Section 7, Marketing Technology and Section 8,About Your Institution, are omitted. These two sections are only required if you would like the free assessment.  
How To Get Your Free Assessment
Simply complete and submit the form to the left and we will send you the full version of the Assessment with instructions. 
Tutorial
Tool Use Online
You must be a register member to access and use this tool/app.  If you're already a member, please login via the link at the top of this page.  If you're not already a member, click the same link and you will be given the option to register.  Go to the registration form and complete it. Once you have registered and logged in, a button will appear on every tool page so you can use all of the tools.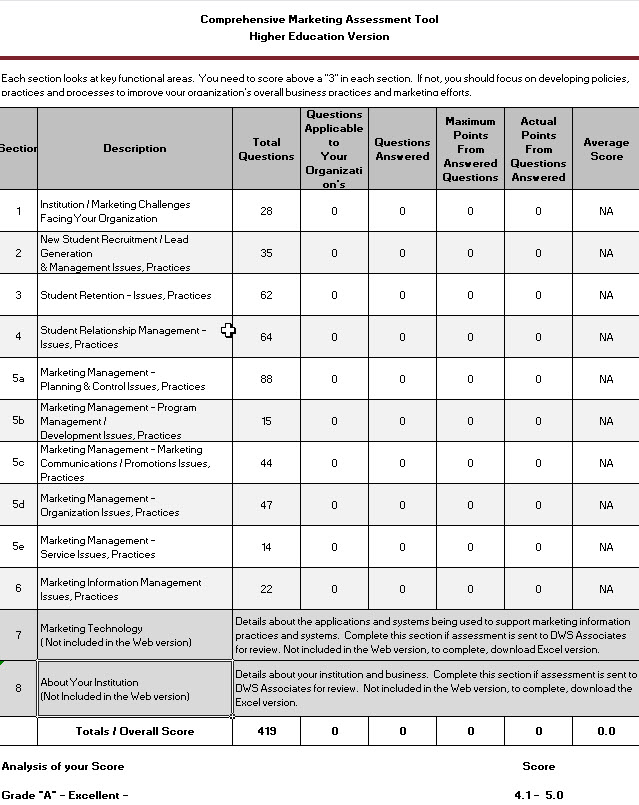 To Purchase This Tool, Click the Link Below