Application Menu
Intellicomp CI (Competitive Analysis & Inteligence) Software
For B2C or B2B Markets
Intellicomp CI (Competitive Analysis & Intelligence) software is an information management system designed to hold a wide spectrum of competitive analysis strategic and tactical information about your competitors and your plans and programs for dealing with the competition. It has an easy-to-use interface that provides access to all of your competitive information in a straight-forward manner.
Intellicomp is designed to hold competitive analysis / intelligence data on your industry and competitors and provide easy access to that data by the various groups within your organization that need to be kept informed about the status of your competitors' plans, performance, programs and activities, as well as your organization's strategies and tactical plans to improve your organization's overall performance and competitive position in your markets.
The competitive analysis and intelligence system provides storage and access to competitive data that is easily accessible by management, finance, sales, product development, manufacturing, marketing, etc.
Intellicomp also provides one location to store, analyze and access information about your competitors. With one centralized repository, you'll be able to consolidate the competitive knowledge of all employees and make that information available throughout the organization.
With Intellicomp, you'll be able to develop historical performance metrics and timelines about your competitors and you'll be able to track theirs and your organizations strategies, tactics and performance on a year-to-year basis.
Intellicomp is designed to run on your organization's in-house intranet or from the Cloud. Access to the system is available through any web browser.
A cloud version of Intellicomp is also available and is priced on a subscription basis per user.
If you're familiar with using web Graphic User Interfaces (GUIs), then you'll find the system easy to learn and use. (Below: screen shot of user interface desktop)
Reg.  $9,995 (Network Standard Version.  Call for customization and other version pricing.)
Screen Shot 1:  Desktop (Quick Launch Menu)

Screen Shot 2:  Competitor Locator Mapping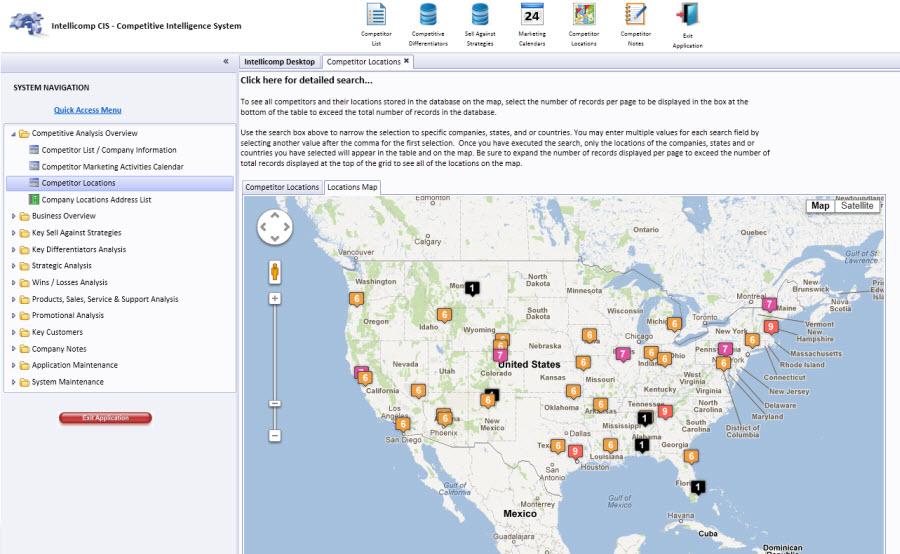 The competitive intelligence system is available as a standalone product or as a supporting deliverable to a competitive intelligence project. 
You must be logged in to save Bookmarks.

Special Offer: FREE Intellicomp Competitive Analysis & Intelligence Software
With the purchase of a completed Competitive Analysis project.  The client will receive an installed version of Intellicomp CIS Software with the findings of the competitive analysis loaded onto the application.  This software maybe installed on the clients own server or a cloud service provider hosting service.  The software license, server license and data upload are included in the package. 
Software License Price:  $9,995 (Dedicated Network Version)  Call for pricing on other versions

Note: 3rd party service provider hosting and software customization and support services are not included.
To Request A Demonstration of Intellicomp CIS,
Call Us Today (651) 315-7588